I'm very happy to introduce "FFS // Rhythmic Convolutions", a set of 200 rhythmic Impulse Responses specifically designed for the processing of beats, synths and instruments with a percussive timbre.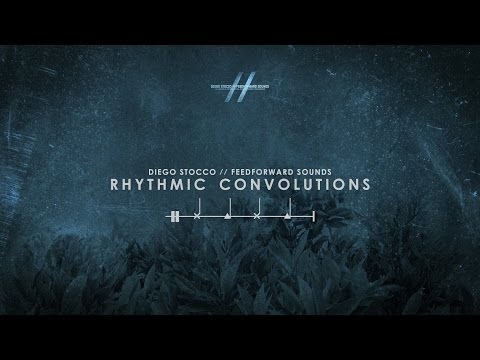 You can purchase "FFS // Rhythmic Convolutions" here for $29.99
 // Reviews
On Create Digital Music by Peter Kirn
On Synthtopia by James Lewin
On Sonic State by Nick Batt (video interview)
F.A.Q.
Q: What is this? Is this a a plugin? A: This is a collection of Impulse Responses (audio files) intended to be used inside a third-party convolution engine software or plugin, to process incoming audio.
Q: Are the rhythmic parts/loops you're using in the video demo part of the product? A: No, those are just for the purpose of the demo, they're not included.
Q: Is it necessary to use Ableton Live with Convolution Reverb Pro? I use a different DAW/plugins. A: Not necessarily, you can use other DAWs and plugins that offer similar functionalities to the ones you see in the demo.
Q: Do you recommend any specific convolution engine? A: Like your choice of DAW, you're free to use the convolution engine you prefer and the one that is compatible with your system. My personal choices are Convolution Reverb Pro (Max for Live plugin) and Native Instrument's Reflektor (available in different formats: VTS, RTAS, etc..)
Q: From your video demo it seems that those Impulse Responses are working right at the tempo you're using, but what if I want to use a different tempo for my tracks? A: Several convolution engines offer the ability to transpose the Impulse Response up or down. By changing that parameter you'll be able to adjust how the Impulse Responses fit in your track.
Q: In your video demo you mentioned "Rhythmic Processing" and "Convolution Processing", what are those? A: Those are the first two advanced sound design tutorials I released in my new series "Feedforward Sounds", each one explaining in detail an advanced sound design technique. You can find them here: FFS 01 // Rhythmic Processing and FFS 02 // Convolution Processing.
Q: I'm a composer/producer, I make music for films, TV, video games, albums, music libraries, etc.. Can I use these Impulse Responses to process sounds for my music? A: Yes.
Q: I'm a sound designer, I work on films, TV, video games, etc.. Can I use these Impulse Responses to process sounds? A: Yes.
Q: I make sample libraries, samples for virtual instruments or custom sound design libraries for clients, can I use these Impulse Responses to process sounds and create samples or a library for distribution? A: No, "Rhythmic Convolutions" is a sample-based product based on copyrighted sound recordings, and using it to generate a sample-based "derivative product" intended for distribution is not allowed.
Q: I'm a teacher and I would like to use Rhythmic Convolutions with my students, can I load these Impulse Responses on the computers in my class? A: Thank you for your interest, in order to do that you need to obtain a multi-user License, please write at: ffs@diegostocco.com
All trademarks and registered trademarks are the property of their respective owners.
You can purchase "FFS // Rhythmic Convolutions" here for $29.99