Starting small but starting today!
I'm really proud to present you guys my new series of advanced and experimental sound design techniques.
This is a self-produced and self-published series that I hope will be positively received, so that I will be able to make the series grow with more videos and contents.
With these videos, I'm sharing with you guys the experience I gained out of years of work and countless hours spent in trying to figure out unique ways to create original sounds and music. I'm offering each video for $9.99, which is a very reasonable sum for any professional, but it's an accessible number if you're a student and not yet making money out of your work.
One note, if you're still learning the basics of your DAW and in general just moving your first steps into the sound design field, I would suggest enhancing your knowledge level a little bit before diving into my Feedforward Sounds series. However, if you're ready for something on a complete different level feel free to explore FFS01 // Rhythmic Processing!
I wanted to create a series of educational videos that would work as a direction to point at, and not as an absolute destination where everybody ends up at the same time with the same results. I hope you'll enjoy the experience and feel inspired to create something unique!
Available here: https://gumroad.com/l/FFS01
Thank you!
Diego
Video Introduction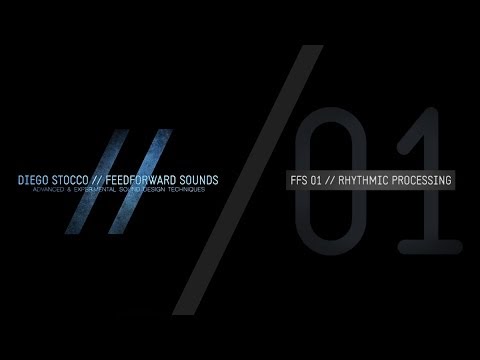 Rhythmic Processing is a technique that allows the creation of multiple rhythmic elements, in real-time, from a single instrumental part. The dynamic accents of the instrumental part (in this case an acoustic guitar) are routed into several plugin chains, each one creating a separate rhythmic element.
Video Workflow ▸ concept behind the technique ▸ recording of initial instrumental part ▸ setup of the Live session ▸ detailed function of each individual plugin chain ▸ final performance ▸ final notes. 
// These two tracks further illustrate how Rhythmic Processing works:
 
// Reviews (with useful comments)
On Create Digital Music by Peter Kirk
On Synthtopia by James Lewin
// Here's what other musicians say about Rhythmic Processing:
"Great work on the series, I enjoyed what you created and it was presented with your characteristic warm energy and clean and clear instruction." Gotye (Grammy Award Winner multi-instrumentalist, producer and artist)
"What a great video! How generous and exciting to share your ideas and techniques in such a clear way! I really dig this approach that is anchored in using actual fresh sounds as the core building structure of the final product." Nathan Johnson (film composer, producer, and songwriter: Looper, Don Jon, The Brothers Bloom)
"Lets get real here: We all want to know how Diego creates his sounds and why they sound so damn good and unique! Well with his new video series FeedForward Sounds, he gives us an insightful look into his craft. To sum it up, it is a must watch!" Sascha Dikiciyan | Sonic Mayhem (video game composer: Mass Effect 3, Tron, Quake series, Dead Rising 3, Borderlands)
"Great to actually see how you create your sound. Inspiring." iOSonik
"I bought this a couple of days ago and just watched it now. I've seen many hundreds of hours of audio and music related videos but never learned as much in 10 minutes. You're the ultimate analog thinker but at the same you're expanding digital processing techniques. Looking forward to the next one!" David McNamara
"Really great video. I never would have thought to use envelopes like that." James Dean
"You are one of the reasons why I am getting more and more involved in the sound design field. I will definitely buy all these tutorials and hopefully one day manage to attend a workshop. Thanks Diego!" Hugo A. Zarate
"VERY good information. Definitely goes beyond "Let's see what this sounds like backwards."
" Mike Rinehart